The 3rd of February marks the 5th anniversary of the enactment of the Right to Information (RTI) Act in Sri Lanka. The right to information of the citizens came into force with the signing of the Right to Information Act No. 12 of 2016 on 04th August 2016 followed by the provision of information by the public authorities that commenced on 03rd February in 2017.
The Right to Information, a civil and political right, is a great achievement for us Sri Lankan citizens. Over the past five years, there have been many instances where the general public have enjoyed the benefits of this Act.
These benefits range from instances such as constructing the village road, obtaining water or electricity to a village, obtaining information regarding the selection criteria for a job that you applied for to inquiring government development plans and funds allocated for projects to in-depth investigations regarding misappropriation of public funds, accountability of government officials and public representatives. However, the recent events inclduing the pandemic have drifted public trust and credibility in the RTI Act.
On the occasion of the Fifth Anniversary of the Right to Information Act, the Sri Lanka Press Institute (SLPI) initiatied an outdoor event where they distributed leaflets containing infromation regarding the RTI Act in selected areas of Narahenpita, Colombo Fort and Borella on 19th and 20th January 2022 to raise public awareness on the RTI Act.
Upon randomly questioning the public about their awareness of the Act, the SLPI found that more than 70% of the respondents were unaware of the RTI Act. About 15%had heard of such a bill but had no clear idea about its provisions. Only a very few among the random groups had a clear knowledge about the process of obtaining information under the RTI Act. Only 4% of respondents had in fact used RTI before and some others said that althoughthey had filed RTIs they had not been able to recieve requested information.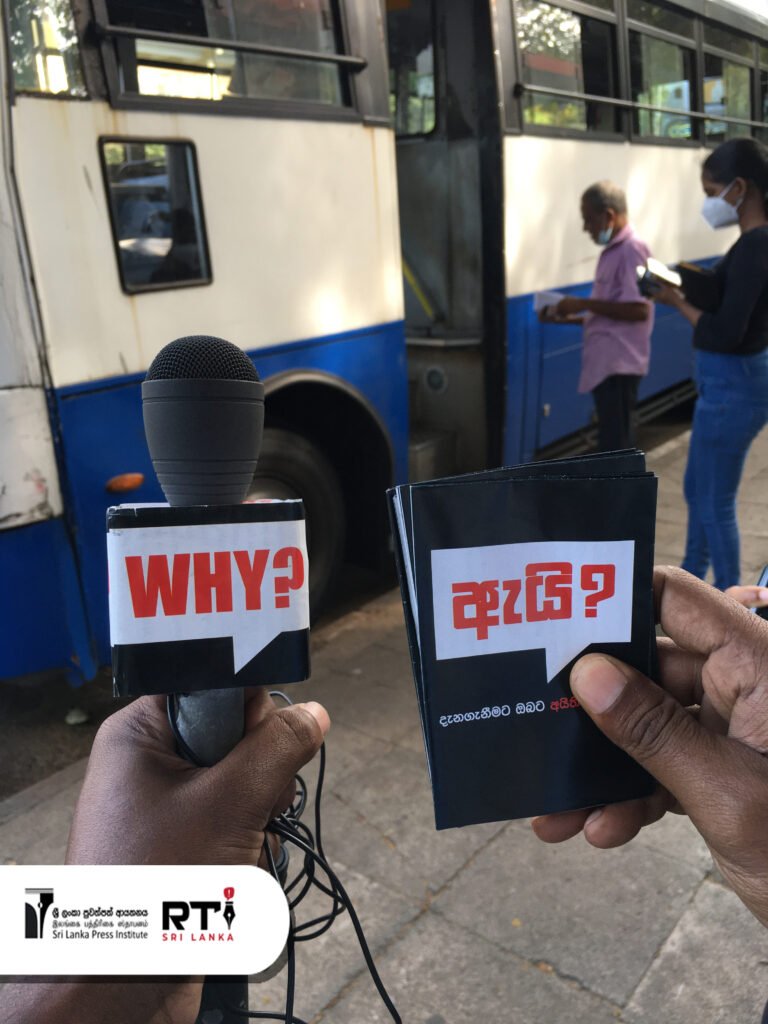 Our random initiative was met with a small group of men, women, young and old citizens of all walks of life on the streets of Narahenpita, Pettah and Borella. However, it was evident that even after five years of enactment, the awareness of the RTI Act remains very low among the general public. This experience certified the need to further civil society awareness of the Act in order to build public confidence in the RTI.
The Right to Information is vested with the public as a citizen right. It is the duty of the citizen to participate in the governance process by exercising this very right as is vested to the public through the constitution of Sri Lanka.